ECO-2
ECO-2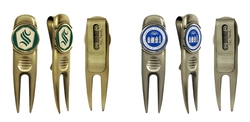 This stylish tool with a curvature of the legs for easy use in repairing ball marks is not only functional but features a side clip. Has a removable customized ball maker.
Normal Production Time:
14 Working Days
Product Size:
3.125" x .875" x .250"
There is not any detailed option information available for this product.

Sales Sheet
Printer-friendly product sales flyer.
Production Time: 14 working days
©2018 Eisinger-Smith, inc.
Site Designed by